Coach Lights are essentially architectural fixtures often marking the location of a laneway. They provide very poor ground illumination and considerable glare along the road. If marking your laneway is your goal, a low wattage CFL bulb (13 watts) can be used. But we usually want the entrance road to be illuminated too. So how can we modify the existing fixture to minimize glare yet still shine sufficient light down onto the ground?

Coach Fixtures are usually selected on what they look like in daylight. So any modifications should not be too visible during the day.

This model has coloured windows to reduce the glare from pure white light. Although red light is better for astronomers, neighbours may not like it. Amber is a good compromise.

Here is one way it can be done using a thin piece of aluminum and two extension light sockets.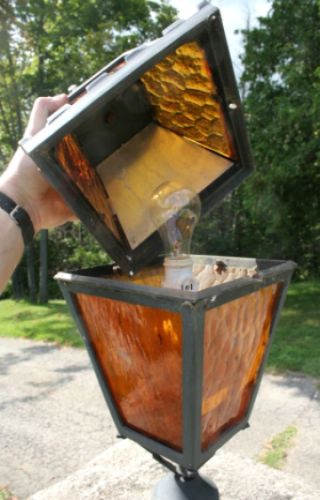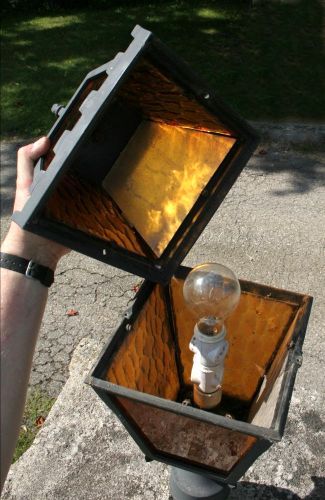 Typical Coach Light Metal Shield in Top of Fixture Socket Extension for Bulb
The metal shield is cut to fit behind each window in the top of the fixture. I suggest mounting it inside so that the modification is not apparent. Aluminum foil will work but it may have to be replaced every few years as it gets weathered.
These shields (only one is shown in the picture) prevent light from shining directly into the eyes of motorists and pedestrians. The windows in the lower half of the fixture allow the light to shine down onto the laneway.
The inexpensive coach lights have the light bulb near the bottom of the fixture. By raising the bulb into the upper half of the fixture, the metal shields can be made to work much better. I suggest using two socket extensions from the electrical department of a hardware store.
Light shouldn't shine to the side into the bushes, so shield those lower windows as well. "The animals will love it if you do" (Paul Simon).
Now the light from the fixture will minimize glare along the road, it will illuminate the driveway and, the bulb will be easier to replace. The light that would otherwise shine into the sky is reflected down where it is needed. Without the glare, it can use a lower wattage bulb. The wattage may depend on local lighting conditions but in the country a 23-watt CFL bulb per fixture is more than adequate, so why not try 13-watt.
If the coach light holds several light bulbs, why not just use one bulb and save on electricity and the cost of extra bulbs.