We are told, or it has been implied, that we need artificial light to see at night. Indeed we see people with flashlights walking along park pathways. Surely they won't be using flashlights if they didn't need them.

Well most pathways require us to carry flashlights, or they are designed to require flashlights. Or the city runs electric power to the park and installs artificial lighting. This is based on "Best Practice" that is followed by most cities. But let's consider what's going on. Perhaps there is a "better way". A "Best Practice" for one situation, based on a limited point of view, may then necessitate a requirement that may have been avoided if better judgement was applied in the first place.

Communities like pedestrian and bicycle pathways. The "idea" encourages people to get out and walk around. They may be lined with vegetation for aesthetic reasons and the surface paved with asphalt to produce a smooth surface. Asphalt is both cheap (roughly $40/m2) and easy to maintain. This seems to work well during the day when there is plenty of light, but what about at night.

Most urban paths are not planned for night use. Consider the asphalt surface. It only reflects 5-10% of the light that illuminates it. It has roughly the same brightness as the grass beside the path. So, without a flashlight, it's easy to step off the path and into difficulty. Perhaps this is why people use flashlights.

But let's consider another option. In the figure above we see the reflectivity of various surfaces and plants. Green surfaces reflect a bit better at wavelengths around 0.5 microns, so "green things" reflect more green light than the other colours. However we can't differentiate colour at night, so the grass and the asphalt will look about same – and we run off the path into the bushes.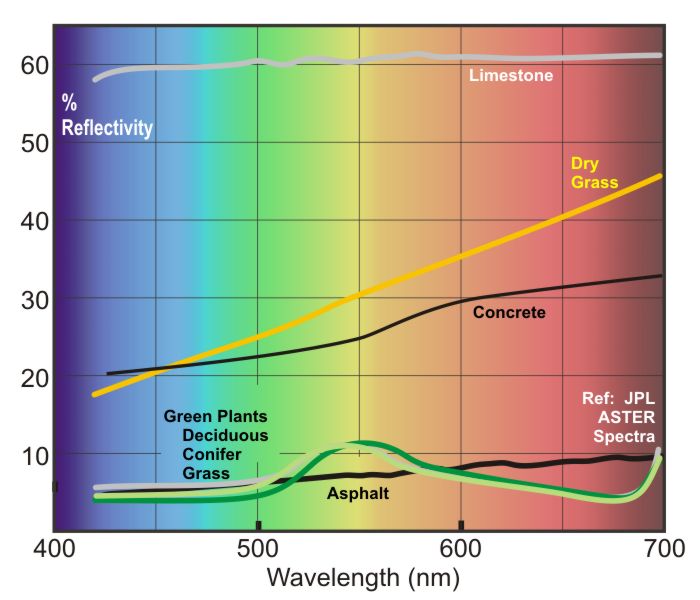 However if we coated the path with crushed stone (limestone) then the path surface will reflect about 10X more light (moonlight on rural paths and sky glow on urban paths) than the surrounding vegetation. The path will appear to "glow' and no artificial light needs to be installed. This will save a LOT of tax payer's money!

Even if the grass is not healthy, the stone covered path will still be 2x brighter than the brown grass. The crushed stone surface will appear brighter than even a concrete surface.

When presented this way, it's common sense NOT to pave paths. The crushed stone will let rain water drain through the surface so it won't pool, and it's cheap (<1/2 the cost of asphalt) and easy to maintain. Asphalt is a cheap by-product of oil production, but using it on pathways leads to more expensive-in-the-longer-term infrastructure.