Lighting Schedule
The Ecolight comes with a controller to schedule the illumination throughout the night to minimize its ecological impact during periods of greatest sensitivity, and to conserve power.

This is the default timeline. It ramps-up to the user-set brightness at sunset. It remains at this brightness until about 22:00-23:00 - depending on the tree cover, surface reflectivity, and the season. This is time when vehicle and pedestrian traffic is approaching the lowest densities.

It then dims to 20% of the user-set brightness for the rest of the night. At dawn, the EcoLight automatically turns off.

You can brighten the light for a few minutes during the Dim Time by "flicking" the light switch in the building.

Contact us if you have a preferred schedule.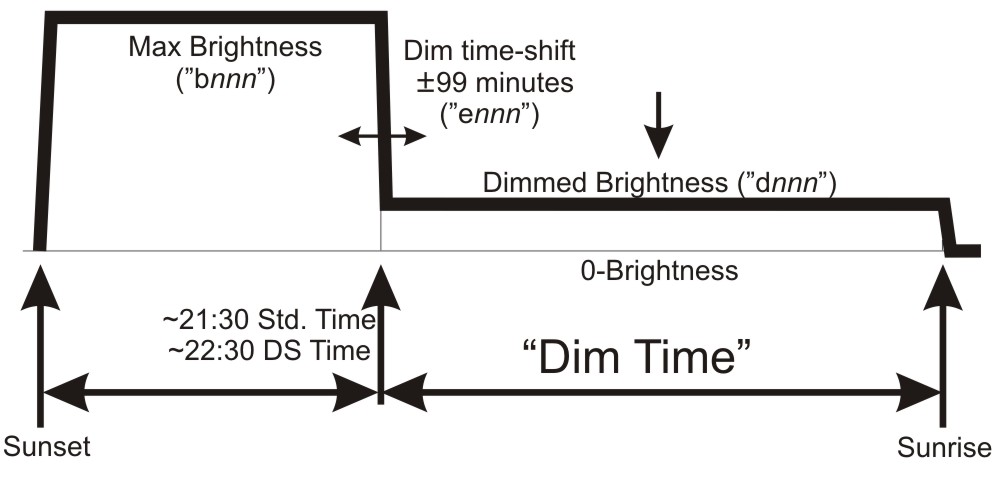 Photometrics
This photometric plot has a 1-meter grid spacing. The EcoLight has a wide light distribution that is forward of nadir thereby minimizing backlight (behind the mounting point). This means that a supporting arm is not needed to place the illumination pattern near the centre of the target area, thereby saving installation costs and visual clutter.

The illumination levels in the figure are for "full power" and can be reduced by a factor of 30 by the user to the desired brightness (about 5-lux at 6-meter height down to <3-lux at 1-meter height).

The wide light distribution allows a spacing of about 4x Mtg.Ht. with a uniformity of better than 3:1 [Max./Ave. or Ave./Min.] or better than 10:1 [Max./Min.]. And it is better than 10:1 [Max./Ave. or Ave./Min.] for a spacing of 6X the mounting height.

Virtually no light shines beyond 12m on each side or 6m across the target area. This ensures essentially no glare beyond the target area, but allows a gentle merging of illumination when EcoLights are combined into a string for pathway and roadway lighting.