Lighting Schedule
The Ecolight-Deluxe comes with a controller to schedule the illumination throughout the night to minimize its ecological impact during periods of greatest sensitivity, and to conserve power.

Below is the default timeline. It ramps-up to the user-set brightness at sunset. You then set it to dim when you no longer need the light. Typically this is about 22:00-23:00 when vehicle and pedestrian traffic is low.

It then dims to the user-set brightness level for the rest of the night. At dawn, the EcoLight-D automatically turns off.

You can brighten the light for a few minutes during the Dim Time by "flicking" the light switch in the building, or using the Smartphone APP.

Using your Smartphone (iOS or Android), the maximum and minimum light are user-adjustable over a range of more than 200:1 for about 5-lux at 6-meter height for roads and down to <1-lux at 1-meter height for pathways. And, the dim-time can be changed over a range of more than 3-hours to suit your specific needs.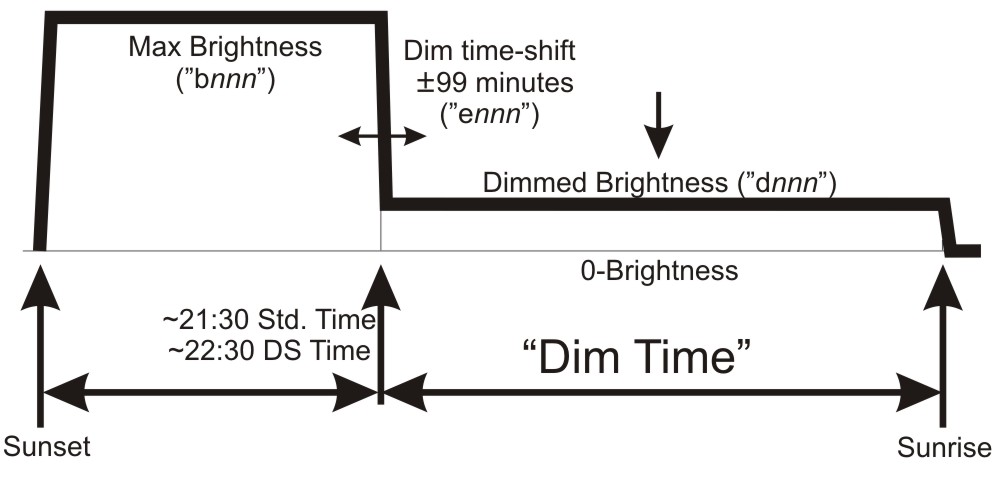 The photometric plot below for the EcoLight-D is based on the maximum power of 7-watts, 6-meter mounting height. The EcoLight-E is about 1/2 the power and brightness.

The EcoLight has a wide light distribution that allows a spacing of about 4x Mtg.Ht. with a uniformity of roughly 3:1 [Max./Ave.].

The illumination is "forward" minimizing backlight (behind the mounting point). This means a supporting arm is not needed to place the illumination pattern near the centre of the target area - saving installation costs and visual clutter.

Virtually no light shines beyond 12m on each side or 6m across the target area. This ensures essentially no glare beyond the target area, but allows a gentle merging of illumination when EcoLights are combined into a string for pathway and roadway lighting.